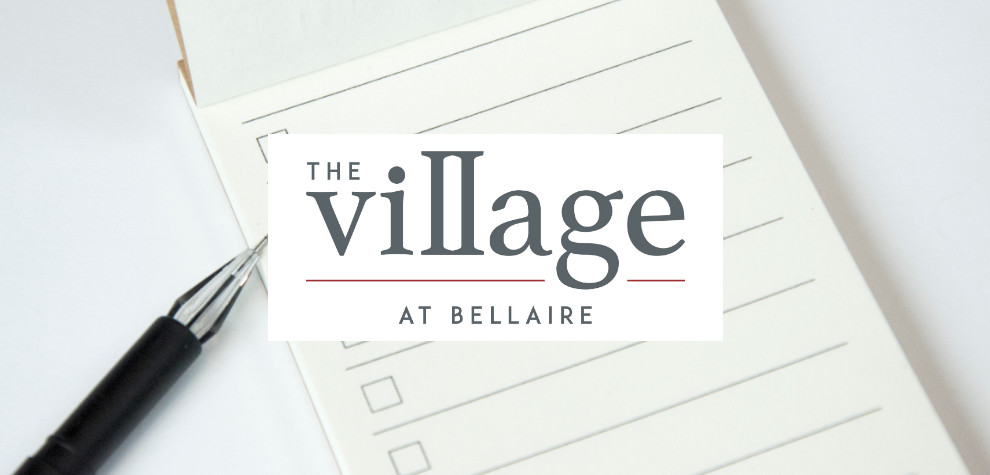 Are you looking for an apartment in Houston? Do you feel like you need a first time renter's guide?
Renting is pretty simple, but maybe not as simple as it may at first seem. Whether you're relocating to the Houston area, moving out on your own for the first time, or wondering if renting is right for you, you probably have questions.
The Village at Bellaire provides a luxury apartment-living experience for all residents, in close proximity to local hot spots like the Houston Galleria and Pin Oak Park. In this post, our apartment-hunting experts will provide a first time renter's guide for anyone stepping into the world of renting.
Let's get started!
A First Time Renter's Guide to the Apartment Hunt
First thing's first: you have to find an apartment you like, in an area you like!
If you want an easy commute, make sure you're only looking at communities and apartments that are near your workplace. If you're looking to move to a certain area of the city, only look at communities in that area. Determining what neighborhoods you want to live in is usually the easiest part.
Once you've determined the area of the city you want to move to, look at apartment communities in that area. Take time to research the opportunities and amenities they offer. Compare this with your personal needs. For instance, if you are very involved in physical fitness and want access to a gym, you would only want to look at communities with gym access.
Another example: if you have a dog, you would want to look for an apartment in Houston that is pet-friendly, like The Village at Bellaire.
As the list gets narrower, schedule visits to each community. You should contact the apartment manager to set these up. Be ready to ask questions about:
The care of the apartments

How maintenance solves issues

The neighborhood in general
Once you think you've found the right apartment in Houston, great! Now ask the apartment manager for references. These are people who already live there who would be willing to talk to you about the community. Ask them the same kinds of questions you already asked the apartment manager. In addition, ask the references if they would move back to the community given the information they now have.
What Should I Consider As A First Time Renter?
It wouldn't be a first time renter's guide unless we talked about more practical things besides just liking the community and neighborhood. There are quite a few considerations to take into account when you're a first-time renter:
Budget
You can move forward more confidently when the apartment is in your budget. To determine what your budget is, put your average monthly expenses on paper. Compare it to your income.
Most finance experts say that half of your budget should go towards your rent, utilities, and transportation.
It's also important to remember that most landlords or apartment communities require that you make two or three times the monthly rent, before taxes.
Features of the Home
Once you've nailed down your budget, think about what matters most to you in a home. Understanding what you want and how that's different from what you need is crucial.
We're not saying you should settle for a community or home you don't love for the sake of practicality. But determining what's an absolute must and what you can compromise on can help you prioritize.
For example, a second bathroom may be an absolute must for you. In that case, you wouldn't consider any homes without a second bathroom. But a great view might be something you can compromise on. Thus, if you find an otherwise perfect home that doesn't have a great view, you should strongly consider it. But if you find a house that's out of your budget, doesn't have what you need, but has a great view, don't consider it.
Timeline
Your timeline matters for several reasons. Most apartments have specific move-in dates. If you have to wait a few months for the apartment you want, maybe you should look elsewhere.
On the other hand, if you can't move before a certain date but the community you're looking at requires an earlier move-in date, you may still need to look elsewhere.
Rental Traps to Avoid
Any decent first time renter's guide has to talk about what to avoid as well as what to look for. Some traps to avoid are:
Not visiting the community. You need to see the community first-hand.

Not being honest on the application. Don't fudge the numbers on your credit score or income. Just don't.

Ignoring the need for rental insurance.

Picking a location based on friends and family. Pick a location that works for you. Of course, take proximity to friends and family into consideration if that's important to you, but never make a decision based only on friends and family.

Focusing only on costs
What Do I Do On Move-In Day?
So, you've selected your apartment in Houston. You've found a community that fits all your needs as well as your budget.
To prepare for your move, package your belongings room-by-room, and think about where they will go in your new place.
Review your new lease as well. It's important to know exactly what is and isn't allowed. Some communities may let you paint the walls in your new home while some may not. Some communities will allow you to put holes in the wall for nails, while others require less permanent alternatives.
Be patient on move-in day. Moving doesn't always go according to plan, however much we would like it to. Most importantly, enjoy it! Focus on your new freedoms and opportunities in your new home.
Looking for an Apartment in Houston? Contact The Village at Bellaire.
The Village at Bellaire provides luxury amenities and a world-class experience to residents in the Houston area. If you are searching for an apartment in Houston, call The Village at Bellaire at 713-349-8855. You can also leave us a message on our website.