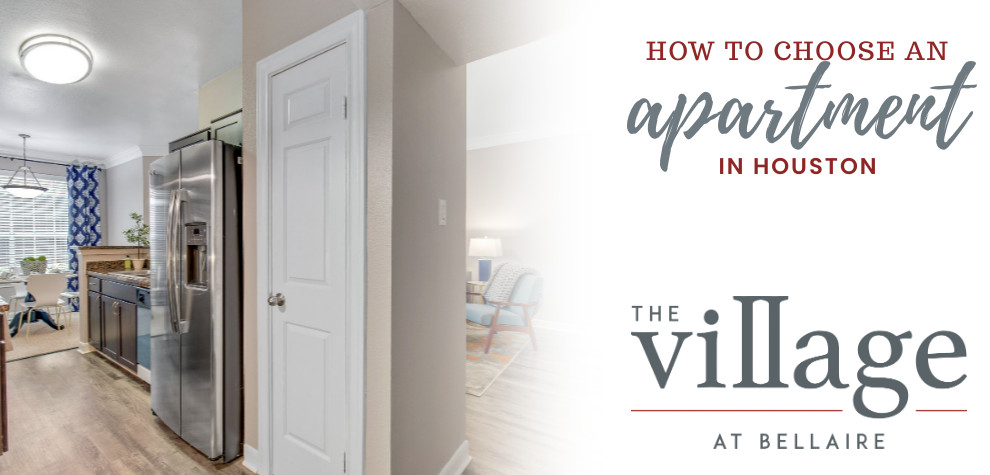 Learning how to choose an apartment is often a rite of passage for recent college graduates. But it can also be an important skill for those ready to start a family or retire. The decision making process has many components. If you can select the right apartment for your budget and needs, you'll be set up for success. Before you start visiting apartments, you'll need to create a list of everything you want and need. You'll have to consider neighborhoods, number of bedrooms, square footage, and certain amenities.
This is a big decision for anybody, so we've put together a list of questions you should ask yourself when choosing an apartment. This way you can feel comfortable before you contact a real estate agent, leasing agent, or apartment complex manager.
Where is the best location to live in?
Choosing your location first will help you save time in your search for a new apartment. If you pick a location, you have a better chance at not getting overwhelmed by too many choices. But if there are many areas you are interested in, don't worry. Just prepare yourself to sift through more choices.
School districts might be a factor in choosing your location if you have children. If you're a foodie and like to eat out, proximity to restaurants might help you narrow down your location. Consider if you like the noise and bustle of a busy area or prefer something more secluded and private. Take into consideration your commute, your neighborhood, and how far you want to live from parks, grocery stores, retail stores, doctors offices, and entertainment.
Don't forget to think about the neighborhood's potential traffic during rush hour. An apartment that has a 10 minute commute at noon might end up being more than an hour during the mornings and evenings in rush hour. Sometimes an apartment listing will exaggerate how close a unit is to important locations and fail to mention the traffic. Try tracking the commute yourself with your GPS. You can set the time to 5 p.m. on a Tuesday, and Google will factor in the usual traffic for that time in the area.
How hard is it to park my car?
If you own a car, you should be concerned about the parking situation in your new apartment complex. Parking can be expensive and hard to find in a lot of neighborhoods. In some of these places, renting an apartment with a parking garage or designated parking lot might be necessary. Don't forget that a personal parking pass or spot might be costly. As the leasing office or landlord about any parking costs.
Is the property secure?
Ask the landlord or property manager about some of these common security features:
Gates
Smoke detectors
Fire sprinklers
Buzzers
Fob entry
Security systems
It might be useful to ask about the neighborhood as well. Is it a safe part of town? Can you go for walks at night? Will your children be able to play outside safely? Research crime statistics to get an idea for how safe the area is. Rather than take the landlord's word for it, scope out the area yourself to get a feel for it. Even if the crime statistics seem good, you should trust your gut. You don't want to live in a neighborhood that makes you feel unsafe.
What kind of layout does the apartment have?
If you have a picture of your ideal layout, that will help you decide how to choose an apartment. Think about what's important to you in terms of space, storage, and layout. If you love to cook, you might want a big kitchen with lots of storage for all of your gear. If you work from home, having a second bedroom could be a great place for a work-from-home office. If you're a fashionista, you'll need lots of closet space. Having an elevator instead of stairs might make your daily routine a bit easier. Having a washer and dryer in your unit might be important to you for saving time on laundry.
In terms of floor plans, think about if you prefer something cozy and intimate, or big and open. Do you want lots of windows to let a lot of sunlight in? Also think about what furniture you want to move into your new apartment. Will it all fit? What kind of view does the apartment have? One of the most useful tools an apartment complex will offer is a floor plan. Using this will help you visualize your future apartment layout.
What are the amenities?
Think about what will make your home a great place to relax and recharge.Making sure your apartment complex has all of the amenities you need can improve the quality of your life and possibly save you time. If you don't need to drive into town to go to the gym or do laundry, you can spend more time doing things that are important to you. It can be really helpful if an apartment complex website has a gallery. Some might even provide videos of the property! There are things you'll want to consider about your individual unit, as well as the apartment complex in general.
Check to see if your individual unit offers:
Wifi
Appliances
Air conditioning and heating
Laundry
Trash removal
If you're new to town, finding an apartment complex with a strong sense of community could be good for you to find new friends and a new network. Some apartment complexes host social events, fitness classes, dinner parties, and book clubs. They might offer community spaces that you can use every day or reserve for your own event.
Check to see if the apartment complex offers a:
Dog Park
Business center
Social Calendar
Pool
Community kitchen or room
Grill
Fitness center
Tennis, Basketball court etc.
Ask if there are fees associated with any of these amenities and consider if they're worth it to you.
What is my budget for rent?
With all of these questions, you've already considered the most important aspects of an apartment. But can you afford everything you want? Experts agree that the amount you spend on rent should be no more than 30% of your net income. Be sure to calculate your budget using your income after taxes.
There are additional living expenses you need to consider when creating a budget. These could include one time, or monthly payments for:
Application or credit check fee
Building fees (water, trash maintenance)
Utilities (gas, heat, electric)
Pet fees
Parking
Storage
Internet
Some landlords or leasing agents will require you to pay the first and last month's rent as well as a security deposit. Make sure you have enough for this before signing any kind of agreement.
What is the apartment management like?
Pipes break, hinges come undone and plumbing malfunctions can happen to anyone in any apartment. If you're not a do-it-yourself kind of person, you will definitely want to make sure the apartment complex is attentive to maintenance issues. The property management and landlord should play an important role in your decision making. If the person responsible for fixing things around the building is far away, rather than onsite, you might have to wait hours or days to get important things fixed.
Some managers or landlords ask tenants to take care of maintenance requests on their own and then subtract the cost from the monthly rent. Look into the process for submitting maintenance requests. Make sure the apartment management has a good reputation for being responsive to requests.
Does the apartment allow pets?
Sometimes pets can feel like members of the family. Finding out whether or not an apartment complex welcomes pets can be a major deciding factor in how to choose an apartment.
Usually pet owners limit their apartment search to pet-friendly rentals from the beginning. Some apartment complexes go above and beyond simply allowing pets. You can find pet amenities such as grooming facilities, dog walking and pet sitting services, and onsite dog parks. These can provide a level of convenience that may be worth any extra costs that come with it.
What are people saying about the apartment complex?
If people hate living in one of the apartment complexes you've found, don't bother visiting it. Check out online reviews to see if any of the apartments you're interested in have good reviews from former and current residents. This will help you narrow down your search by identifying red flags like noise, poor building condition, or bad management.
What is the rental contract like?
The rental contract or agreement is the most important step in how to choose an apartment. All of the other questions you've asked should be answered by the rental contract. It should state the lease term, price, previous damage, and various other apartment specs. Read the rental contract carefully and make sure you understand it completely before you sign it. Here are some of the questions you should consider when reading over your rental contract:
What are the fees for breaking lease early?
If I want to travel, can I sublet my apartment?
Are there any rent increases scheduled?
When do I have to notify the landlord if I want to move?
What do I do if I have noisy or bothersome neighbors?
If the rental contract is missing something that's important to you, you can always ask to make amendments to it. Just make sure that any verbal agreements between you and the landlord are made in writing.
THE VILLAGES AT BELLAIRE APARTMENTS CAN HELP YOU WITH "HOW TO CHOOSE AN APARTMENT"
If you're still wondering "how to choose an apartment", The Villages at Bellaire Apartments in Houston, Texas, would love to answer any questions you may have. Give us a call at 713-349-8855 for more information.